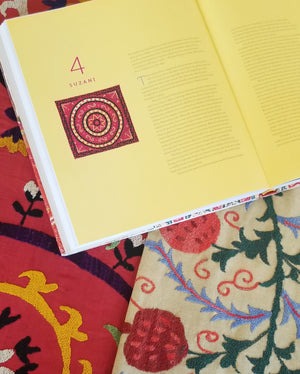 Suzanis: What are They and How to Use Them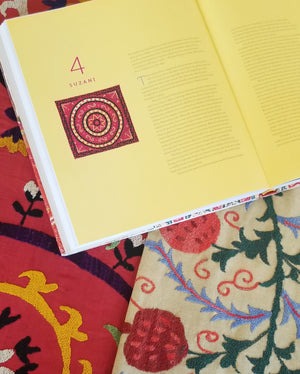 WHAT'S A SUZANI?
It's no secret Central Asia is rich with beautifully decorated textiles and eye-catching designs, but none encapsulate the well-crafted tradition of the region like suzanis.
Suzani, a word that comes from the Farsi "suzan", meaning needle, is a traditional embroidered textile typically made from a cotton base and silk thread.
Usually stitched in warm colored threads and accompanied by blue accents, the design is characterized by its floral patterns.
           
WHO MAKES SUZANIS?
Suzanis originated in Central Asia, specifically Tajikistan, Uzbekistan, and Kazakhstan, but it was practiced in other countries, as well.
Although both nomadic people and urban people of Central Asia were practiced in the art of suzani making, the impressively large and renown suzanis that acted as wall hangings were specific to urban people who used them to decorate their homes. These suzanis could be as large as 98 x 70 in. (250 x 180 cm). Suzanis this large are typically made in 6 individual strips and stitched together to complete the piece.
But suzianis are much more than simple home decor. They are a part of Central Asian marriage practices. After a baby girl is born, her mother will begin the creation of multiple suzanis of all sizes that will be included in the girl's dowry when she gets married.
HOW ARE SUZANIS MADE?
When you look at the gorgeous patterns the suzani features, it's surprising to learn that there are only a few stitching techniques used: the couching stitch and the chain stitch.
  Couching Stitch
There are two kinds of couching stitches called basma and kanda khayol. Kanda khayol is when long strands are stitched onto a design that was drawn by hand on the fabric. Then, the basma stitch is used to hold down the long strands with smaller stitches, usually diagonal to the kanda khayol stitches. The chain stitch is another technique used to make suzanis.
  Fine Silk Chain Stitch
A chain stitch is a standard embroidering stitch that appears like a chain of thread loops. When sewing suzanis, a tambour hook can often be used to poke a hole through the fabric and pull thread through.
HOW ARE SUZANIS USED NOW?
Suzanis are no longer limited to Central Asian rituals. Many women carry on the tradition of hand sewing suzanis, but their international demand means they are also mass produced.
But it is part of the careful, considerate, and laborious process that gives suzanis their unique place as both textile and art. They can be hung on a wall to admire. They can decorate bed ends. They can accent chairs and ottomans. The choice is yours.
Check out Slightly East's wide selection of authentic suzani textiles.