hi friends!
This is my very first blog, and I have absolutely no clue how to go about this. What I do know is a hell of a lot of talented people and a little bit about design. So, I thought I'd start a blog post featuring designer spotlights, fun color combos, fabulous finds, and a little bit about what we're up to here at Slightly East.
Before I go about that, I think I should give you some background information:
On one fateful day in 2008 I met Lynn Seiller, my textile mentor and forever friend, at her shop in Louisville, Kentucky. You should have seen this place! It was chocked full of tent bands and carpets and embroideries and grain bags and kilims and mud cloth… it was a beautiful, explosive, cohesive mess. And so my textile journey began...
I started Slightly East in June 2016. At the time, I had a friend from overseas call to see if I could help sell ikat and suzani pillows that they had leftover from a trade show here in the states. Without a shipping account, I flew seven hundred miles, and packed and shipping nearly 200 pillows to my apartment in Atlanta. I shot/compiled photos and sent them to a few designers. Turns out, a lot of them sold. I thought it was a really great side gig until I started getting inquiries about fabric, not just pillows.
So, I did the logical thing and I booked a test trip to New York City. I'd shoot out a few emails, take some ikat up there, and if it gained interest, I'd make a deal with several sources to sell stateside. My first appointment was with Miles Redd.
shortly after I went full time. it's been a rollercoaster of hard hits, hustle, and a lot of luck, but finally i have it together! slightly east is now in fabulous showrooms and retails shops, and this year (2020) I am excited to announce that we are going back to our roots and coming out with our own pillow and lampshade line available wholesale to selected shops as well as direct to consumer on our website.
typing this story out now i still can't believe how fortunate i am, and i certainly wouldn't be able to continue without you and the wonderful spaces that you create! thank you, thank you, thank you!
xo,
mollie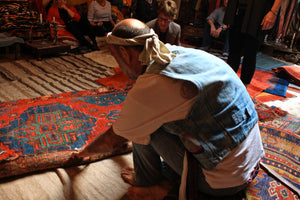 Interview with EK Interiors
Hello again! Y'all rock for coming back to read our second bit. As promised, this is the first of many blog posts where we are featuring fabulous interior designers! Each week will be a little different— before and afters, business tips, mood boards – but to start us off I figured I would keep it close to home and do a simple interview with remodel extraordinaire and dear friend, Emily Karempelis, of EK Interiors.
Emily has over 10 years of experience designing unique, functional homes in the Southeast. She's also a total boss lady, and at 28, runs her own company, manages over 15 projects at a time, AND tends to her sweet new baby boy, William. Since she doesn't have enough to do, I went ahead and took some time to interview her.
interview
SLIGHTLY EAST: Who/what are some of your design inspirations?
EMILY KAREMPELIS: I reference a lot of architecture books. I try to keep everything timeless, so I find myself flipping through pages of Bobby McAlpine and Historical Concepts. Both of them create elegant, classic homes.
SE: What is your creative process?
EK: Depends on the project. I start by listening to the client's goals for the space from both a functional and aesthetic standpoint. I also ask them what they do and don't like about their current space as well as show them images from my other projects or Pinterest. I like to show my clients a variety of different styles to figure out what they like and dislike immediately. Then, I assess the space (and their budget) and figure out if their goals are attainable. If not, I make alternative suggestions— you have to manage their expectations up front. Then I come up with several schematic plans. We tweak or merge plans as the client sees fit and finally draw up the elevations with detailed cabinetry and millwork. From there I really get into inspiration boards with stone, fabrics, photos, etc.
SE: What is your favorite project?
EK: The Lake Allatoona project is definitely my favorite because the clients were a total dream. They gave me a ton of creative freedom and trusted my vision from the get go. Even if there were things that they questioned, once I explained it, there was rarely a no. I know them well and they trusted me to create a space that mirrored their personalities and lifestyle. I think we were successful in that; the space it is rustic, but elegant.
SE: What's your biggest challenge as an interior designer?
EK: Managing the expectations of clients. Most of the time, people have a strong misconception of cost and timelines. I attribute this to television— you see projects that are completed very quickly on a dime— it's unrealistic.
SE: What is a "no" and "go" trend right now?
EK: A no trend: all gray everything. Gray is safe, it will tire very quickly. A go trend: incorporating a pop of color. I love to see something like a clean, white background with a bright blue island, a little bit of fun and a break from the gray.
SE: So what's your favorite color to "pop"?
EK: I'm a blue person, but I'm also really loving a poppy or rust right now.
SE: How about an accessory?
EK: Stacy Milburn mirrors.They're a subtle piece of art. I would put them on every project if I could!