true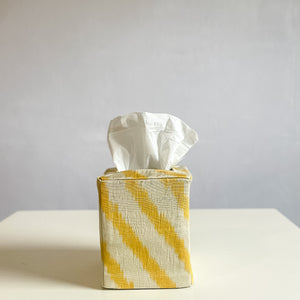 Zeb Ikat Tissue Box Cover
Handmade with care in Atlanta, GA, USA
Made with ikat fabric that is hand-dyed and woven in Uzbekistan
4.5" x 4.5" x 5.5"
Add some beauty to your bathroom or bedside table with our handcrafted tissue box covers. Made of our hand-dyed silk and cotton ikat fabric, these are sure to add luxury to an otherwise mundane but necessary item! Fits all Kleenex brand square tissue boxes.