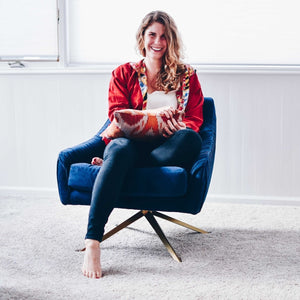 about slightly east
Slightly East explores cultural narratives through textile-centric collections. Our ultimate goal is to share centuries-old artisan traditions and ensure that textile cultural heritage is included in today's homes and fashions.
the name
the name "slightly east" alludes to turkey, the country where our founder's textile education began. Mollie Nitzken began traveling to turkey while working for lynn seiller, textile guru and owner of canoe, a rug shop formerly in louisville, kentucky. her love for unexpected combinations of patterns and colors first seen in turkey is apparent in slightly east's designs.
custom available
custom slightly east products are available! If you would like an item in a particular size or color, we would be happy to help you. Please contact us via email with your specific needs and we will get back to you with a quote and lead time within 48 hours.
trade accounts
Are you an interior designer? contact us to open a trade account today!
contact us
info@slightlyeast.com
(917) 409-7942
contact mollie directly:
mollie@slightlyeast.com